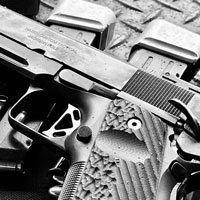 Herb Hazen Memorial Accuracy Challenge
You Can't Miss Fast Enough To Win!
A special pistol competition will be held at Jackson Hole Gun Club on (DATE TBA – we are sorry, but the response to the Covid-19 panic makes it worth delaying this match for a time). The pistol completion will be a modified IDPA-style event, with a bias towards accuracy over speed.
Please watch this space for more information, and check back often.
So what is it?
This match is an IDPA-style, pistol-only competition consisting of a number of stages, divided between short stages, referred to as "speed shoots" and longer stages, referred to as "field courses".
Scoring has been modified to reward accuracy over speed, with greater penalties (more time added) for less accurate shot placement.
---
Herb loved shooting, talking about shooting and helping others improve. He was a mentor to many and had an incredible sense of humor! We think he would get a kick out of having this video posted of his thoughts about his passion for shooting! Long live the wonderful memories we have of Herb!
https://jhgunclub.com/wp-content/uploads/2020/03/The-Herb-Hazen-Memorial-Acc.jpg
200
200
jhgcUser
https://jhgunclub.com/wp-content/uploads/2014/10/homepage_logo.jpg
jhgcUser
2020-03-11 06:45:01
2020-03-31 16:32:08
Herb Hazen Memorial Accuracy Challenge